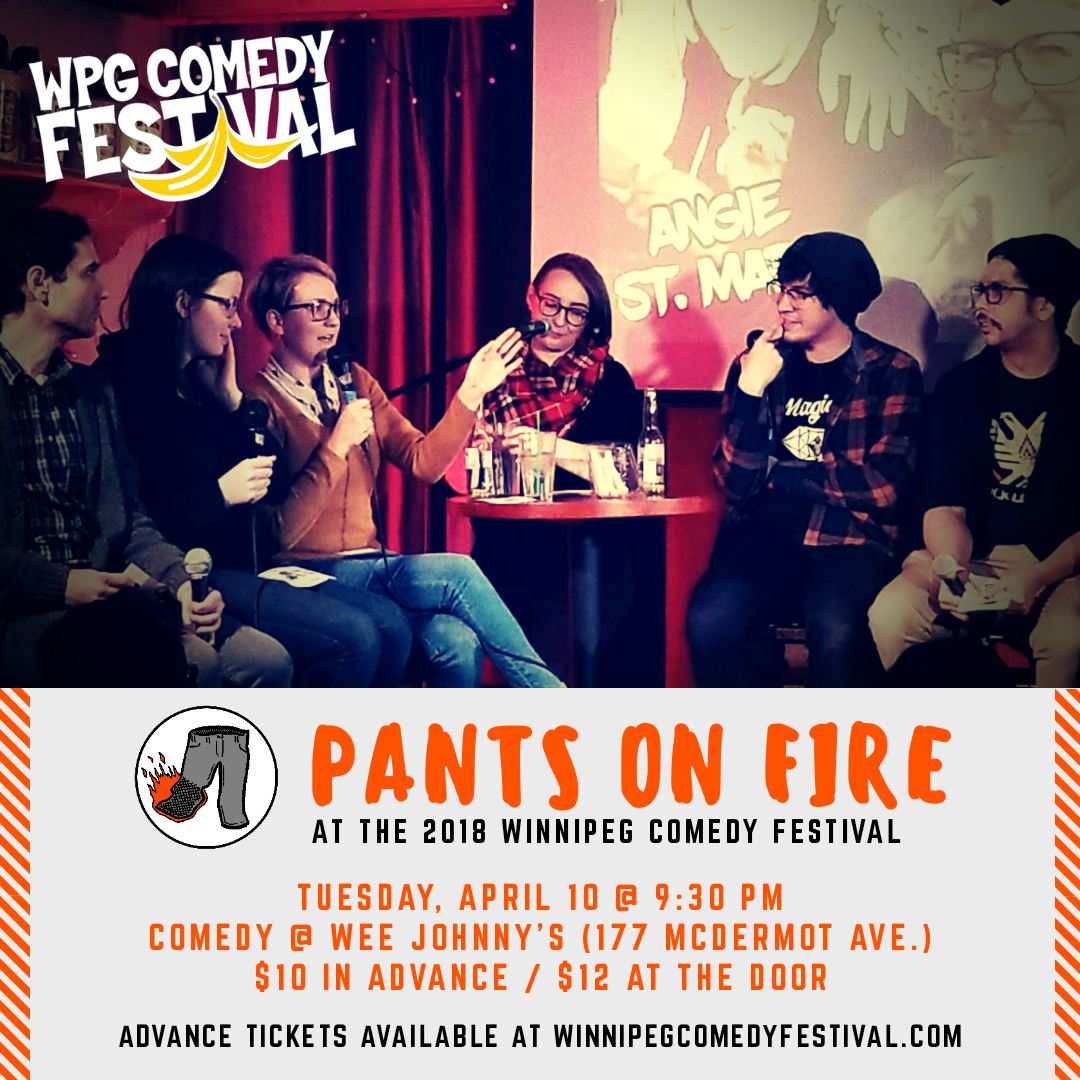 Tickets to Pants on Fire at the Winnipeg Comedy Festival – featuring guest contestants Kevin McDonald of Kids in the Hall, Mikey Dubs, Chloe Radcliffe, and Outside Joke's Jane Testar – are available now at https://www.eventbrite.com/e/pants-on-fire-at-the-winnipeg-comedy-festival-tickets-44019537622.
---
While the Purple Room is currently without a brick-and-mortar location, we're once again very busy producing and presenting events at various venues all across the city!
Every single Thursday night, our SONIC SPOTLIGHT series brings new music to Wee Johnny's Irish Pub (177 McDermot Ave.).
Once a month at Wee Johnny's, we co-produce PANTS ON FIRE, a comedy game show pitting teams of comedians against each other in a battle of truth and deception.
We help run CaRaVaN OPEN MIC + OPEN STAGE, a long-running "anything goes" open mic that takes place every Monday night at 7:00 PM. For the colder months, CaRaVaN is at Wee Johnny's most Mondays, with things moving next door to Forth (171 McDermot Ave.) for the 3rd Monday of every month. Mid-May through mid-September, we bring things out to the Cube stage at Old Market Square! For more information on CaRaVaN, visit the Facebook group.
You may also occasionally find Purple Room-presented events and stages throughout the city, including the Manitoba Night Market & Festival at Assiniboia Downs.
---
After 2 and a half years operating out of the back of Frame Arts Warehouse, the Purple Room shut its doors in August 2015. However, a great team of people connected to the local arts community is still hard at work planning a new home for this unique Winnipeg institution! For more information on where we've been and where we're headed, visit our ABOUT page. To help contribute to what we're building — and get some really cool perks along the way — check out our CAMPAIGN page.